DOES THIS SOUND LIKE YOU?
"I CAN'T HAVE COOKIES IN THE HOUSE BECAUSE I'LL BE TEMPTED AND I CAN'T "CONTROL" MYSELF IF IT'S THERE.."
"I CAN'T JUST EAT ONE OR TWO; I FEAR I'LL EAT THE WHOLE BOX IN ONE SITTING.."
"I WAKE UP IN THE MIDDLE OF THE NIGHT AND REACH DOWN TO PINCH MY STOMACH FAT.."
"I CAN'T CROSS A MIRROR WITHOUT LIFTING MY SHIRT, BODY CHECKING OR LOOKING AT MYSELF WITH DISGUST AND SHAME.."
"I CAN'T LEAVE THE HOUSE UNLESS I KNOW I'LL HAVE ACCESS TO CLEAN FOOD INGREDIENTS OR IF I'LL BE ABLE TO EAT ON SCHEDULE.."
"I'M WORRIED TO FOLLOW MY HUNGER AND SATIETY SIGNALS BECAUSE I FEAR I'LL EAT AND EAT AND EAT UNTILL I'M OBESE.."
ARE YOU EXHAUSTED AT THIS POINT?!
You're sick of food thoughts controlling your life

The mental hunger is getting to the point where it is distracting you from school, work, relationships, service and is adding to a lot of stress to your life

You're worried about your missing menstrual cycle and want to get it back naturally?

​​​​​​​You're done with cutting more and more foods with your digestion, bloating, constipation and cravings only getting WORSE.

You eat until you're physically sick - but still mentally wanting more.

You're done saying no to social gatherings, traveling or other opportunities because of your meal plan, strict exercise sessions or fears around eating outside of the clean dietary rules.

You're tired of counting, tracking, calculating, measuring, weighing, but are deathly afraid to eat without knowing the macros, grams, calories or have a panic attack if you have even a micro amount more or a bit outside of your meal plan..

You so badly want to have the freedom you had before all the restrictive madness and have a healthy relationship with food and exercise again but don't know where to start or what the heck to do?
What will this course do for you?
How you can finally get your hunger and satiety cues back to normal ie eat when hungry stop when full (even if you've always thought or have been told you couldn't)
Why you don't have to fear your hunger nor suppress it or "try to get your hunger under control"
Why you're not crazy even though you feel you are
How to get your period back naturally
The truth behind all the diets out there today
Lose your desire to binge eat; no more intense cravings for good!
How to deal with weight gain in recovery
Learn about common physical symptoms that come up in recovery (ie, edema, fatigue, aches & pains, digestive distress, feeling cold all the time, etc) , why not to fear them and how to embrace them so your body can finally heal!
How to approach exercise in order to successfully recover
Overcome purging behaviors
Understanding your bodies "set weight point"
Science based research explaining all the above
and more!
IT STARTS OUT INNOCENTLY...RIGHT?!
We get super pumped and motivated following our instagram feeds of #fitspo, #fitspiration and #cleaneating…
It starts with good intentions to just get healthy, clean up the diet and get fit..and maybe just lose that 5-10lbs..right?

So we go out and buy our chicken, tilapia, broccoli, sweet potatoes, peanut butter, brown rice and 10 different flavors of hot sauce..

We go to the gym every day. We feel good and we see results at first!
but then, something starts to happen..

..that peanut butter jar starts to look way more "tempting" than before..

it suddenly becomes all we can think about, and instead of just having a scoop, we want to eat the whole jar in one sitting.

the act of eating or looking at #foodporn starts to feel drug like - even orgasmic!

all we think about is food now..

...All our cravings start to take over.. we never feel satisfied no matter how much we eat..

​​​​​​​we feel fatigued and the gym becomes dreadful - exercise feels like a chore or a punishment..​​​​​​​
we lose our period..as well as our sex drive..

we may lose some weight or see some abs, but now, that's not good enough - so we keep pushing further..

we start to develop bloating, digestive problems, and food intolerances, as well as a missed period, loss of hair, fatigue or lack of sex drive but instead a drive to isolate… but it's okay because we're being healthy and fit, right?!
But then, biology really kicks in, and we "fall of the wagon" yet again..

..and we end up bingeing on all the "off limit foods,"

we feel like a failure, like a glutton, like we're "weak," we're retaining water in our ankles, stomach, face and all over..

we try to cut back and "get back on track"

we think the bingeing is the problem,
..that our bodies are failing us..
..that we're doing something wrong..
..and never once think that the restrictiveness in our diet could be to blame..

we think we've developed "binge eating disorder..."
Once we cross this line of balanced and "healthy" it becomes unhealthy and disordered..

That's why diets don't work, cutting specific foods is doomed to fail and being in an energy deficit will only catch up with you later. Living this way is not sustainable for the long term.
What if I told you there was another way? That nobody talks about in the health and fitness industry..

Without willpower, without being obsessive, without rules, without counting, without extremes?!
All it takes is a totally different approach to everything you've tried before..
YOUR INSTRUCTOR:




KAYLA ROSE



B.S. HOLISTIC NUTRITIONIST
As a former fitness competitor, fitness model and binge-purger myself, it all started with simply clean eating, the gym and not feeling good enough as I was..

I just wanted abs, to be just a bit leaner..
It soon led into nutritional obsessions and rituals...with more "bad and off limit" foods than "good" ones.
Which led me to lose my period for over 4 years, to food obsessions, to feeling crazy around food and the inevitable result of bingeing [and purging].
I saw all these other "normal eaters," eating all their favorite foods and being able to stop when they were full and move on with their day without putting too much thought into it..how could they do it?

While I counted my strawberries and measured exactly 50 grams of carbs and a 1/4 of an avocado, or 1/2 banana scared to lose my abs to just another gram, the whole banana or ounce of oil or salt.. I was starving for so much more..
I couldn't fathom a life without a bottomless pit stomach and extreme hunger..I​​​​​​ didn't know another way..
MY PATTERNS AND MINDSETS WERE SO ENGRAINED AND A PART OF MY DAILY LIFE, I WAS SCARED TO LET THEM GO. THEY WERE MY IDENTITY.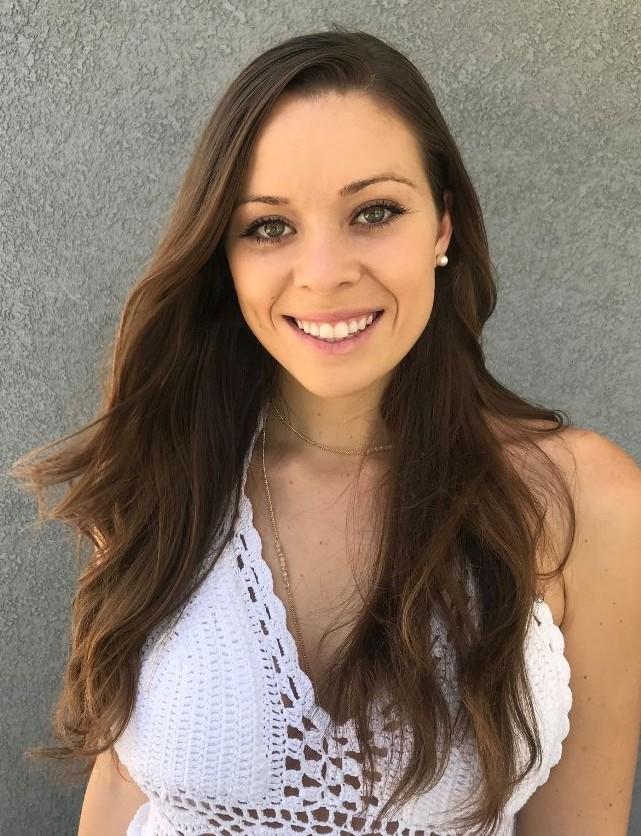 I thought moderation meant laziness, balance meant excuses, lack of willpower meant weakness.. but I was just envious..
I was downright miserable..
I finally got the body of my dreams and was on the supposedly most healthful diet.. but it wasn't worth it. What was it all for at the end of the day?

​​​I just wanted to be normal again.

I wanted to have my freedom back, my digestion back, my sex drive back, my hair and period back, my normal satiety cues back, my mind back..
Everyone said I must've been doing something wrong..

In an attempt to heal myself, I then spent another couple years trying every "healing" diet [or "lifestyle"] under the flippin' sun, such as, but not limited to:

Paleo, GAPS, Ketogenic, Vegan/Raw Vegan, Whole Foods, Cleanses, Juicing, Fasting, Body Ecology, Low Carb, Low Sugar, Low Fat, Intermittent Fasting, Living off only butter or oil for weeks, no nightshades, no oxalates, heck I even considered breatharian!

You name it, I tried it..with only a further decline in my health..
Eventually and slowly, I started learning more about this whole balanced approach, anti-diet, intuitive eating and yes- processed food thing..
And then, the realization: that all the foods I had been taught to avoid, were suddenly in play, and *ahem* — actually healthy for me! Say whaa?!
Butter, ice cream, salt, PIZZA, bacon, beer, even a full avocado if I wanted!
It was so much more freeing, non-stressful and pleasurable to live life this way!

Although it was scary and I faced a shit ton of resistance and confusion… it all started to make sense.. the fog started to lift..
This was just the beginning to the end..
Over the next several years, I slowly got my freedom and life back in so many ways! Just by healing my relationship with food and my body… the whole time all these different areas of suffering — physically, mental and emotionally was from the unhealthy relationship towards food..

Now, I want the same for you!
GET ACCESS TO THE ENTIRE PROGRAM:
DIY (IN FULL)
CLOSED
Includes:
DIY (PAYMENT PLAN)
CLOSED
Includes:
VIP (IN FULL)
CLOSED
Includes Everything In the DIY Program, Plus:
VIP (PAYMENT PLAN)
CLOSED
Includes Everything In the DIY Program, Plus:
COMMONLY ASKED Q'S ABOUT THE COURSE:
When does the course start and finish?
I really want to enroll in your course, but I don't think I can afford it at this time..
What if I am unhappy with the course?
I have invested a lot of time and money into other resources and nothing has helped. How is your course different?
Why do you have a meal plan? Wouldn't this be counterintuitive?
I saw your course and it looks perfect but I am not sure that I would commit to it..I'm afraid to fail..
I Haven't competed in a fitness competition or suffered from exercise compulsion, but I do deal with food obsession and hating my body, is this program for me?